Gua Sha with Guy Morgan
Discover the ancient Chinese ritual of Gua Sha using Guy Morgan's Gua Sha stone.

Dating back to Ming Dynasty in China the ritual promotes wellbeing and mindfulness, whilst increasing circulation and reducing puffiness.
A daily ritual for your skin and your mind.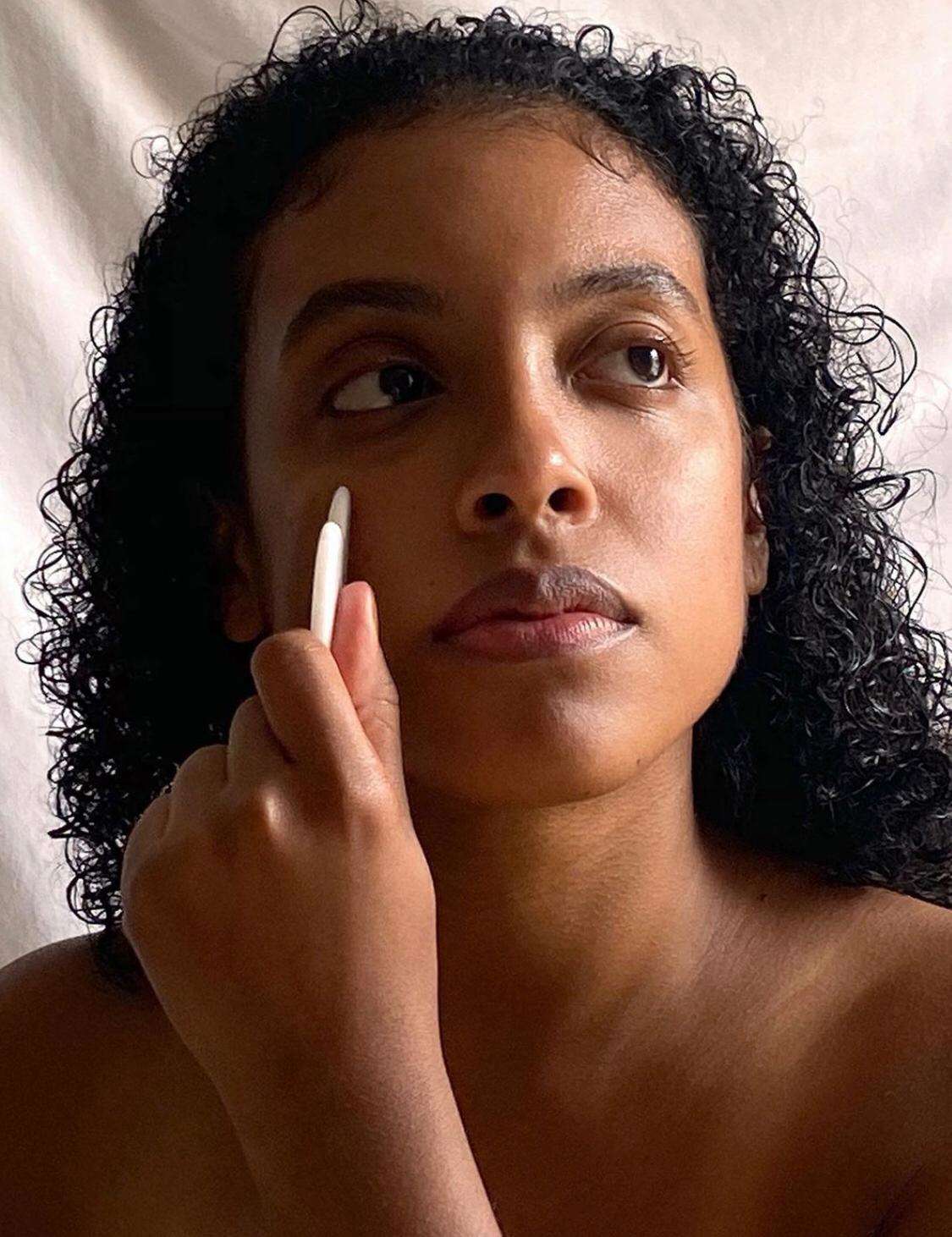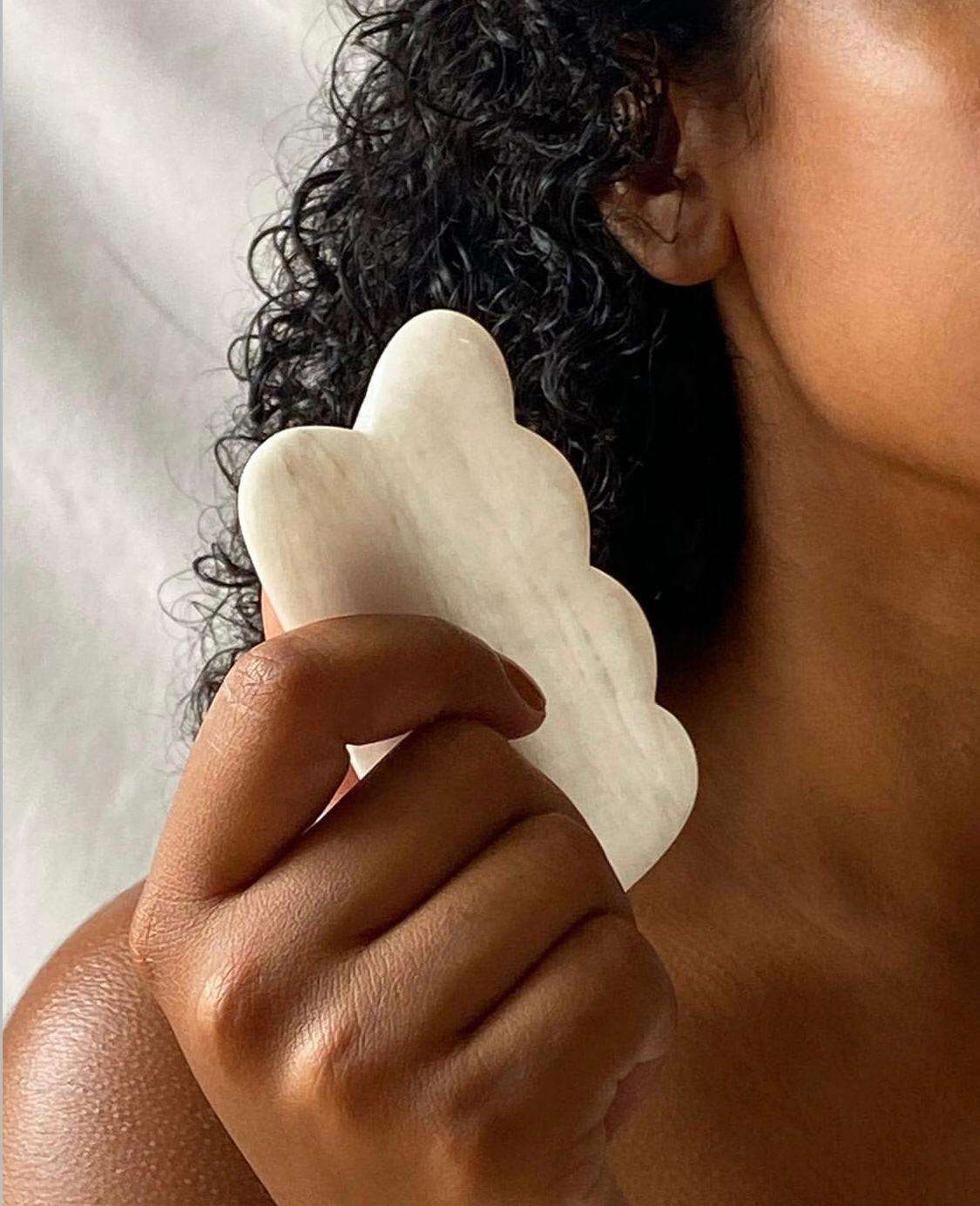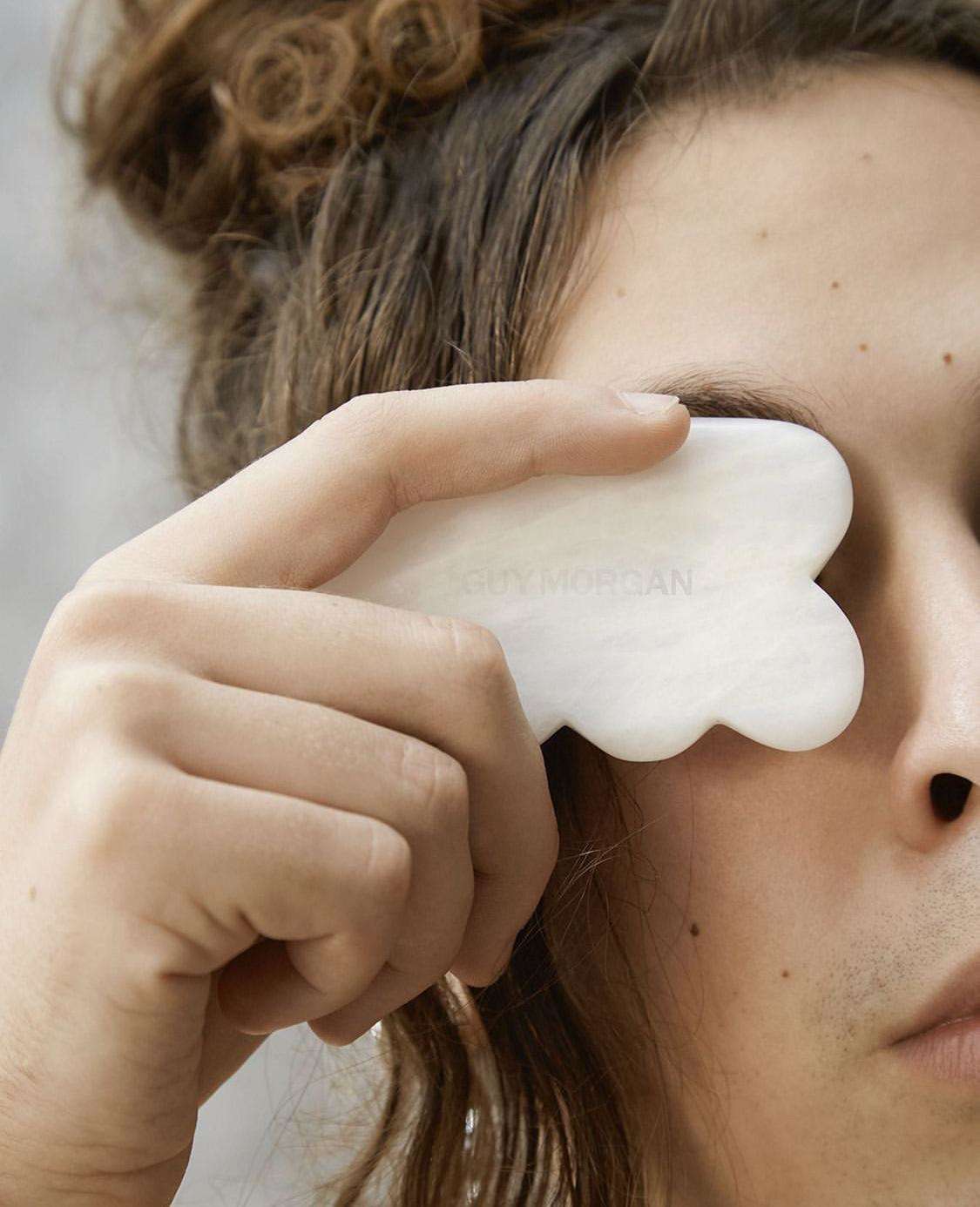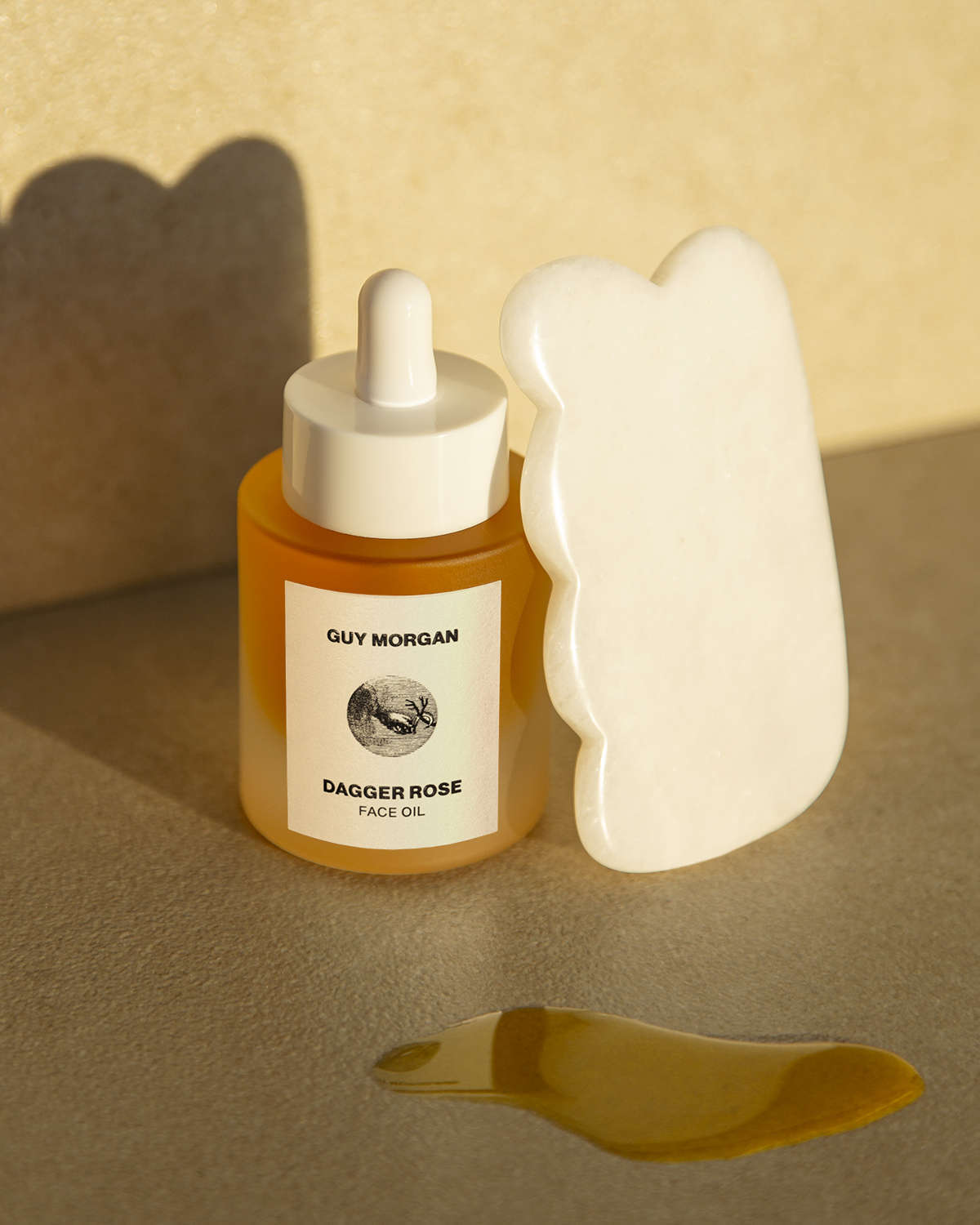 Gua Sha Ritual
After your regular cleansing routine, warm a few drops of facial oil in your fingers and apply to the face and neck.

The Neck & Jaw
Holding the tool at a 45' angle, follow the jaw line and down the side of the neck with a scraping motion applying a medium but comfortable pressure. Continue over the area 5-8 times.

Then change the direction to an upwards motion when working on the neck under your chin and collarbones.
The Face
Again, in an upwards motion using the rounded edge of the tool continue the same method following contour of the cheek up towards the temples, scraping the tool over the skin with medium firmness.

The Eyes
With a softer pressure move to the area under the eyes, taking the tool once again all the way to the temples reducing puffiness and dark circles.
The Scalp & Body
You can use the tool intuitively to reducing tension in the scalp and back of the neck and other areas of the body. For best results use daily as a part of your beauty ritual to visibly reduce puffiness and increase microcirculation in the face.
Meet Guy Morgan
Hand Blended in East London, Guy Morgan created his range of nourishing natural skincare products to encourage you to slow down and appreciate these small, yet meaningful, gestures as part of your daily ritual. Meet Guy and discover his favourite morning skincare ritual of Gua Sha.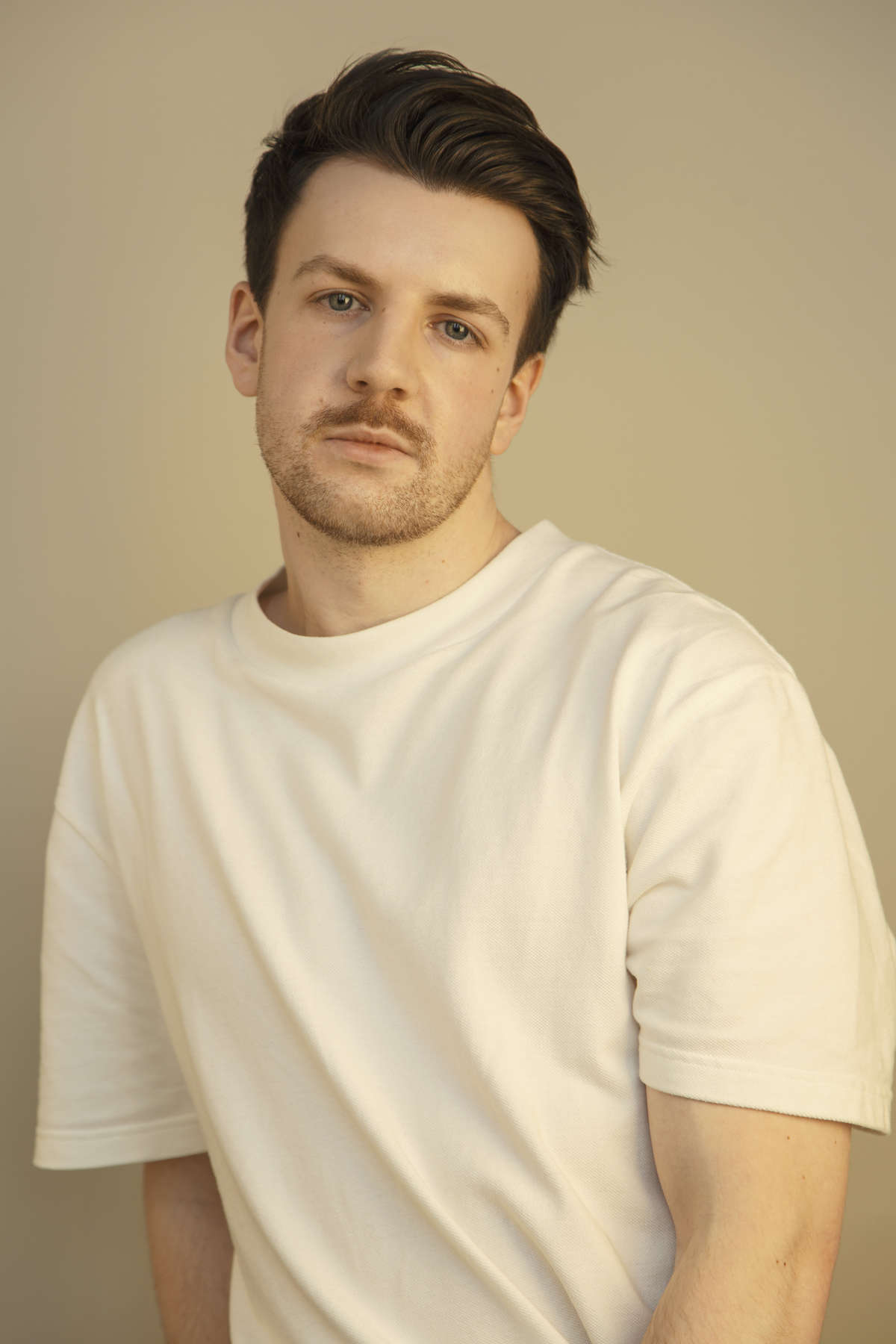 Could you tell us a bit about your background?
I grew up in the countryside of the Quantock Hills of Somerset. Our daily walks around the heathlands inspired a love of nature from a young age. Art and design were of equal importance, I'm forever grateful for growing up surrounded by books ranging from the Bauhaus school, to the most obscure things like teapot design. This love of nature and design has carried with me throughout my life.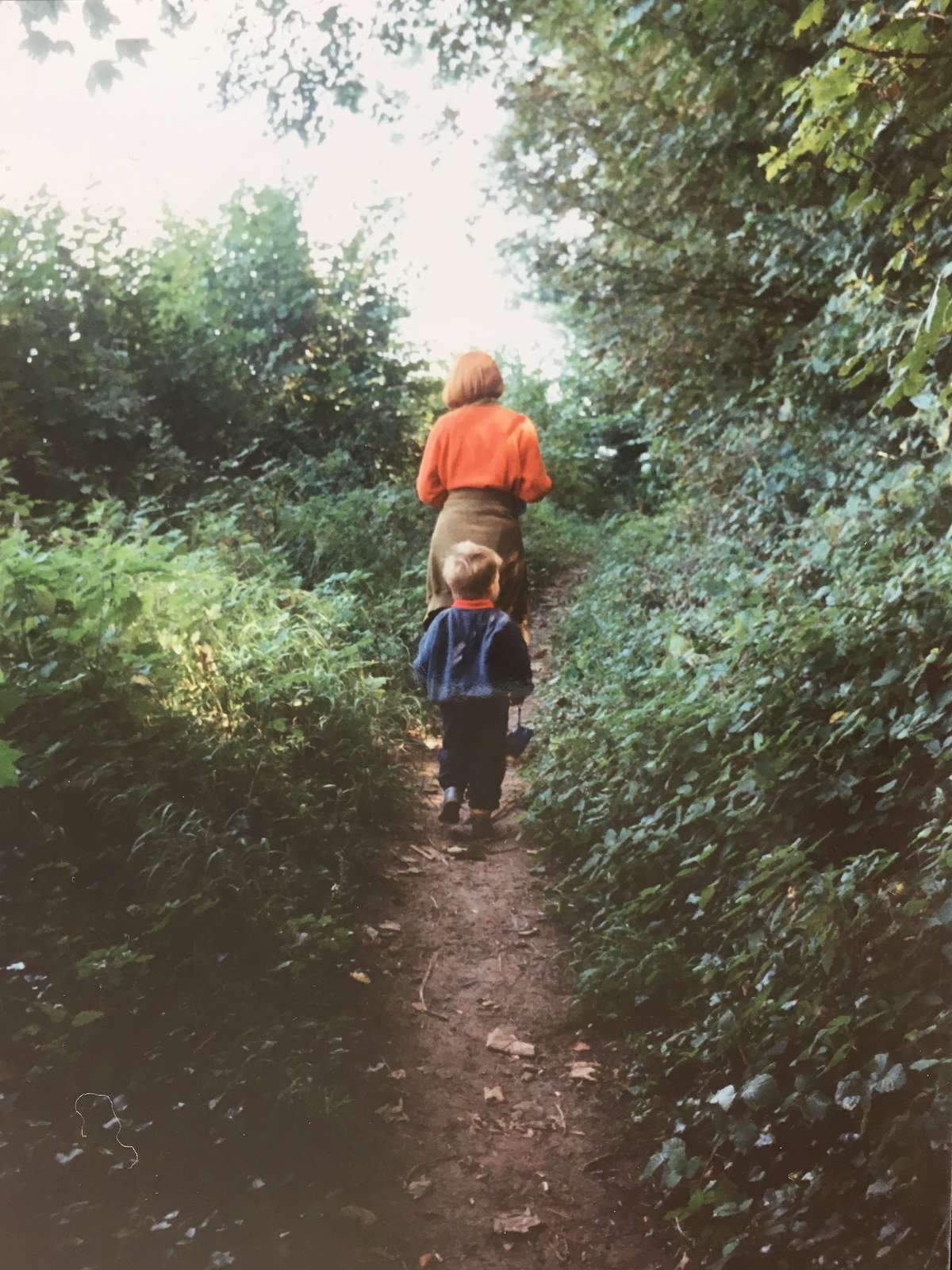 What made you start Guy Morgan?
Like many teens, growing up I didn't have the best of skin. I'd try your typical generic, skincare and find my skin stripped and compromised. Similarly I found so many brands patronising and aggressively marketed to either women or men. The few brands that did match my ideals of natural, and effective, didn't match my admittedly high standards of aesthetics!
"Guy Morgan stands for 'Transformative results for all' a brand for all genders, age groups, and ethnicities. For those who want natural without compromising on performance."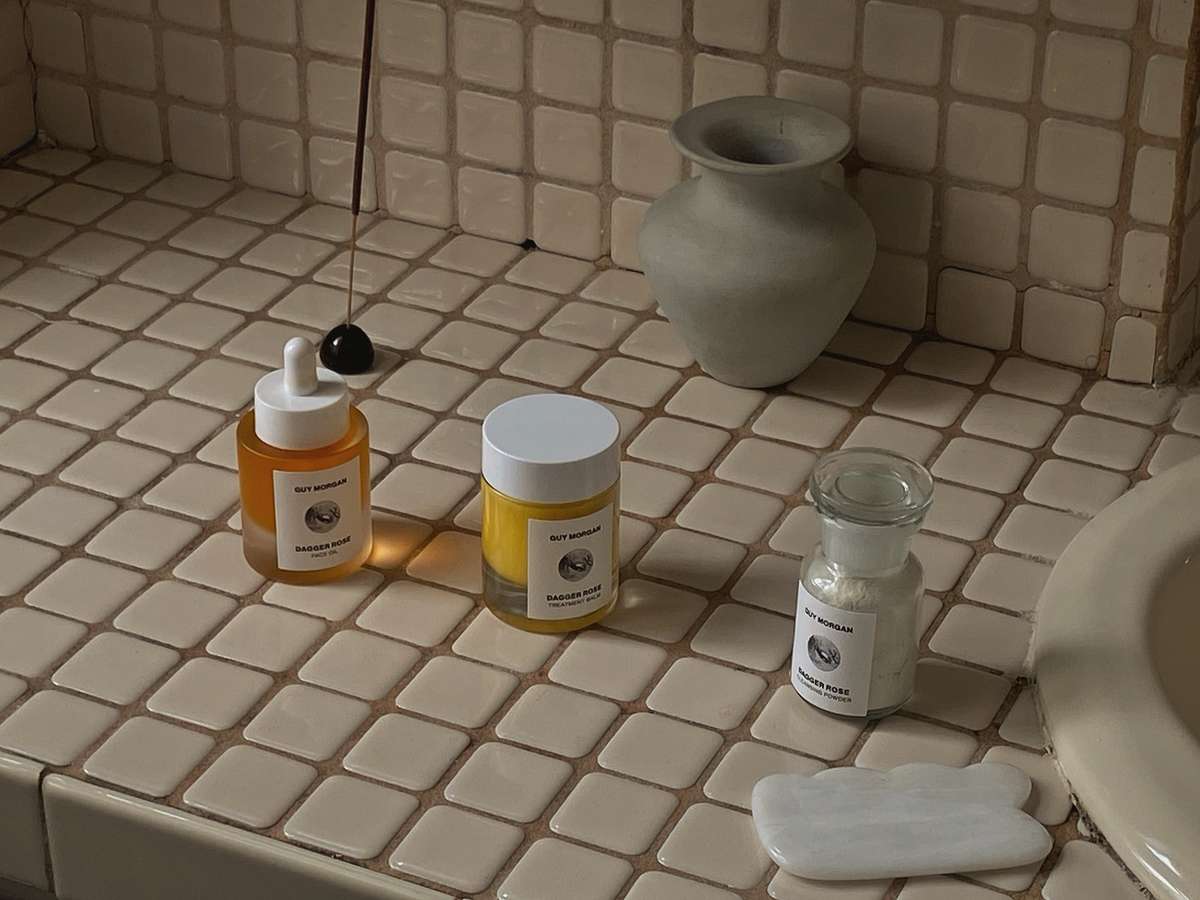 When did you decide to run your own business?
My mother showed me how to utilise clays as facial cleansers and masks (a throwback to the 70's using grains to cleanse). I began experimenting myself, and started to share my creations with friends of friends. I took several courses on natural formulation, and had a go selling my creations locally at markets. At this time I was only doing it as a hobby, but I was amazed at the positive response. I left my job in interior design two years ago, and began Guy Morgan as it stands today.

Over the last few years, more and more people have been buying into niche brands - why do you think that is & how do you think are young business & minds contributing to this?
Most mainstream brands feel repetitive and too confined. Those that retroactively try and appear natural, often come across as money grabbing. Authenticity is what people want, not faceless corporations.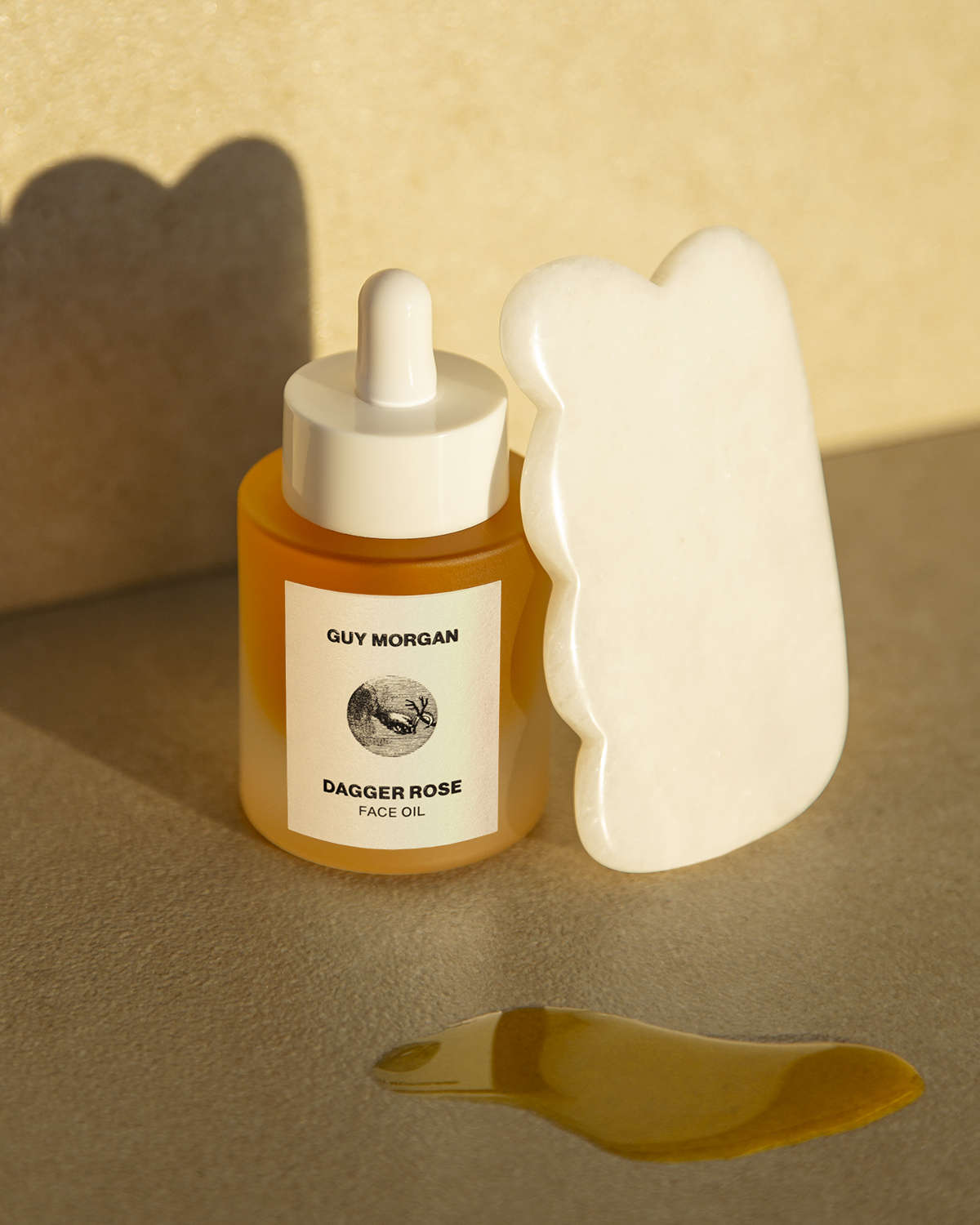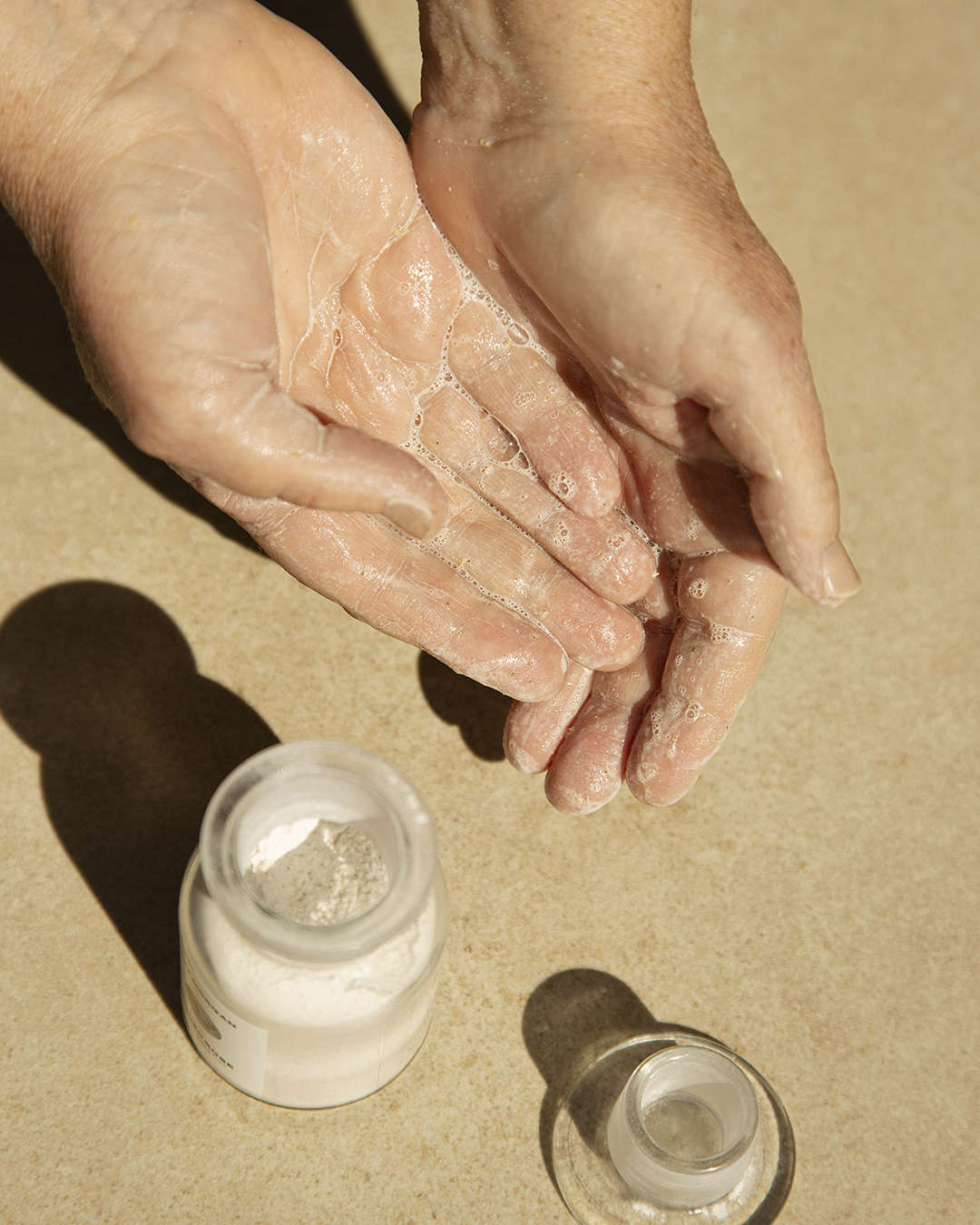 What foes it mean to be creative?
Being creative isn't limited to art, having great skills or intelligence. We use our creativity every day, from problem solving, to our vast and imaginative dreams.
What it means to run your own business?
For me it's having complete creative freedom, being able to create something following my ideals.
How do you define hard work?
Hard work is fighting every day for what you believe, accepting that sometimes it will be difficult. Consistency is what it takes to reach your goals.
What does Community mean to you?
I believe community is not something limited to where you live. Community exists of those who support and care for one another, no matter if they live next door, or far away.
Talk to us about what traditions mean to you?
I don't like traditions, I believe in trying new things to see where they take me, and carving your own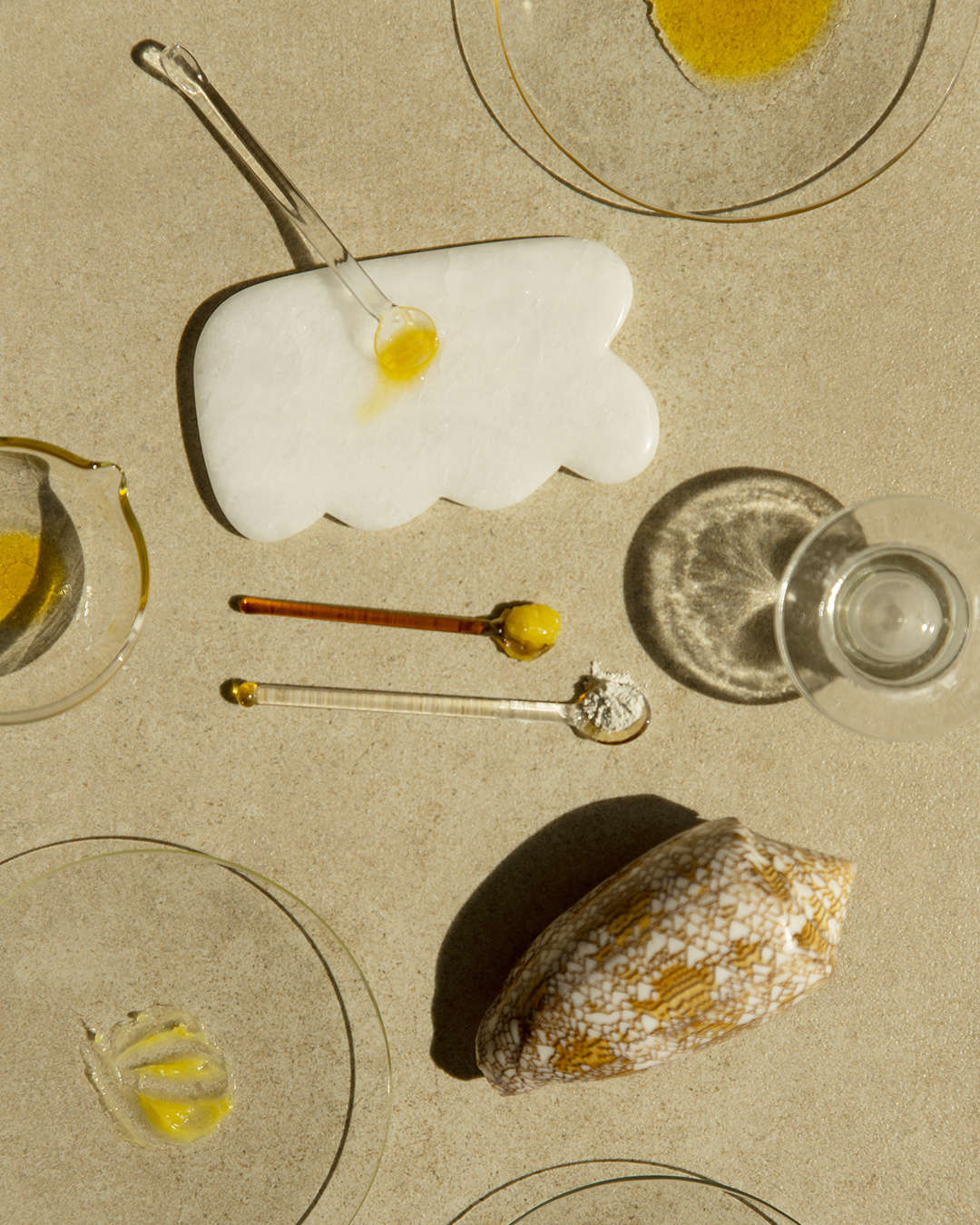 Do you have any rituals you swear by?
I love using my Gua Sha Stone and Dagger Rose Face Oil morning times right after a shower. It gets blood circulating around my face to give a glowing boost, and helps depuff under my eyes. The coolness of the jade feels amazing on damp skin.
What are your favourite scents & why?
I'm a fan of classics. Lemon, lavender, something powdery. My dogs paws have a popcorn scent that always makes me smile.
What is your favourite meal to cook at home?
I'm a big fan of vegan cooking. My speciality is enchiladas using sweet potatoes, sun dried tomatoes, black beans, roasted red pepper, and spinach.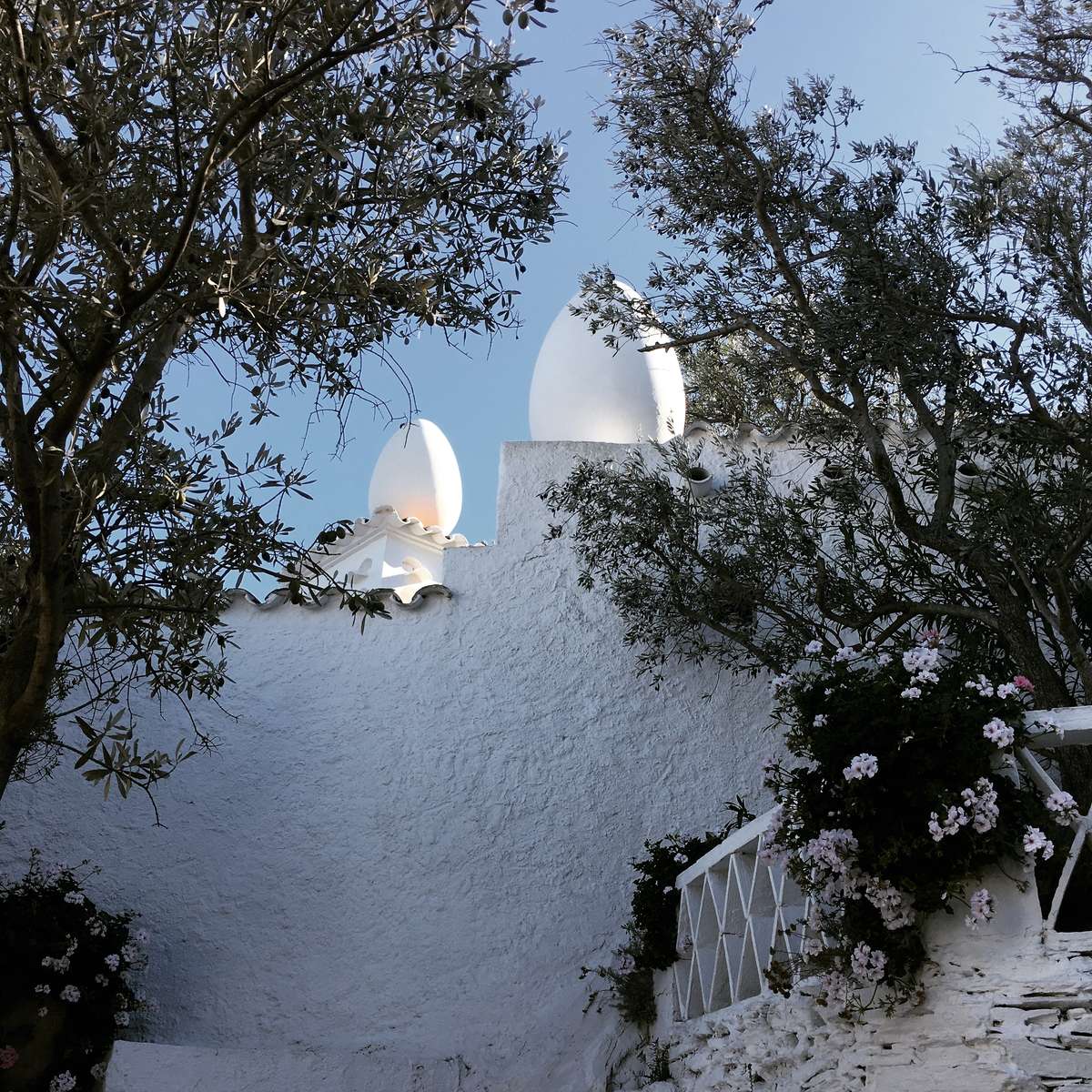 If you could take us on a trip to anywhere, where would you take us and why?
Cadaques in Spain, where Salvador Dali lived. The mix of culture and seaside life is very refreshing. I loved the white washed walls of his house, the gentle olive trees, blindingly blue sky, dark grey stone flooring, mixed with his bizarrely beautiful art.
Leave a comment